What is Medicare Advantage (Part C)?
Medicare Advantage Part C is a type of Medicare plan that is offered by private insurance companies and includes the same coverage as Part A and Part B (and usually Prescription Drug Coverage – part D)
The type of Colorado Medicare Advantage Plans include Health Maintenance Organizations (HMO), Preferred Provider Organizations (PPO), Private Fee-for-Service Plans (PFFS), Special Needs Plans (SNP), and Medicare Medical Savings Account Plans
Many Part C plans (Medicare Advantage) have extra benefits that Original Medicare doesn't offer like dental, vision and prescription coverage
What Must Medicare Advantage Offer?
By law, Medicare Advantage (MA) plans must offer the same coverage as Original Medicare Parts A and B. Medicare Advantage plans must offer the following:
*The above list is the minimum coverage requirement by law for Medicare Advantage plans. Most MA plans offer additional coverage like vision, hearing, dental and prescription drug coverage.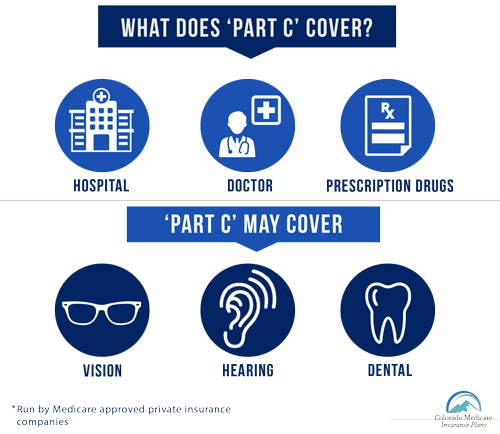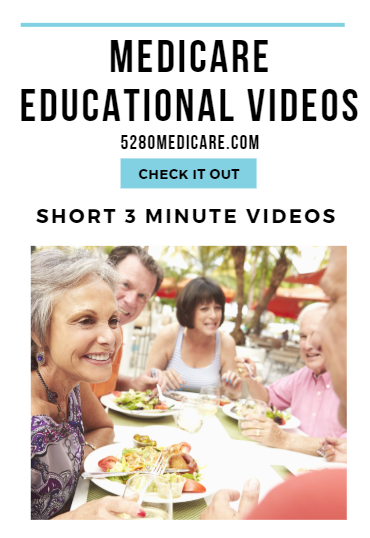 *Most Medicare Advantage plans include prescription drug coverage.
Medicare Advantage Enrollment Help
Submit your information above and I will contact you about your Medicare coverage options.
This is a solicitation for insurance.
When is the Medicare Advantage Enrollment Period?
Initial Enrollment Period (IEP) is the most commonly used enrollment period for Medicare Advantage plans. Medicare Part C (Medicare Advantage) plans can be purchased during the Initial Enrollment Period, which is the three months before you turn 65, the month you turn 65, and the three months after you turn 65 (seven months total)
Annual Election Period* (AEP) – From October 15th to December 7th annually. The annual election period is when Medicare Advantage plan beneficiaries may enroll, dis-enroll, switch Advantage plans, add prescription drug coverage or simply return to Original Medicare (Parts A and B. AEP is from October 15th through December 7th annually.
Special Election Period (SEP) – Medicare Advantage beneficiaries with certain situations are allowed an enrollment period that is different than the usual enrollment periods.
Who is Eligible to Enroll in Medicare Advantage?
To enroll in a Colorado Medicare Advantage plan, there are three requirements you must make sure you meet:
You must be enrolled in both Medicare Part A and Part B
You must live in the service area for the Medicare Advantage insurance provider
You must not have End Stage Renal Disease (ESRD).
Medicare Advantage Enrollment Help
Submit your information above and I will contact you about your Medicare coverage options.
This is a solicitation for insurance.
What are the Costs Associated With Medicare Advantage?
The cost of a Medicare Advantage plan depends on a number of factors including:
Monthly Premiums
Yearly Deductibles
Copayments for Doctor Visits and other Services
Coinsurance Fees
Extra Benefits (ie. Dental)
Prescription Medication
Government Extra Help
Keep in mind that costs fluctuate based on the factors for each individual – each year in September your plan will send you a Evidence of Coverage (EOC) and Annual Notice of Change (ANOC) documents to outline how much you will pay for the plan as well as what the plan covers
Medicare Advantage Plans have a yearly limit on your out-of-pocket costs for medical care and when you reach this limit you will typically pay nothing for covered services
*All Medicare Advantage associated costs vary between different Plans and can change yearly.
What are the Pros and Cons to Medicare Advantage Plans?
Pros:
Some plans have low or $0 monthly premiums
You have a variety of plan choices to fit your needs
Limited Out-of-pocket maximum per year
Opportunity for coverage beyond Original Medicare including routine vision and dental, hearing, prescription drugs and health wellness programs
A packaged product under one health insurance provider
Flexibility to change or cancel your plan annually
Cons:
Some plan types require you to use a network provider
Some plan types require a referral to see a specialist
Plans may be difficult to compare since no two Medicare Advantage plans are alike
Medicare Advantage plans may change or be cancelled due to contractual agreements with providers and/or Medicare
Do I Need an Licensed Health Agent?